Here are the resources available to your church for special dates and offerings throughout the year. Materials vary from week to week, but can include bulletin covers and inserts, children's resources, devotionals, worship planning tools, prayers, projection graphics and more. The resources are organized below by their suggested date on the CRCNA Deacons' Offering Calendar; however, most materials are designed in such a way that they may be used on any date that works best for your congregation.
Emails are sent twice a year (in March and September) to every Christian Reformed congregation in North America with a unique order form link that allows you to order materials for six months at a time. The March order form includes materials for July to December, and the September order form covers January to June. To place a special order, call 800-333-8300.
Helpful tools:
Information about how to order materials was sent to your church in March 2021. Look for an email marked "For Action: 2021 Request Form for <Your Church Name>" or contact [email protected] for more information
October 3 - All Nations Heritage Sunday (Race Relations)
All Nations Heritage Sunday is Oct. 3, a day set aside every year for churches across the Christian Reformed Church to celebrate the multicultural church of Christ. The Office of Race Relations encourages all congregations to meditate on the 2021 theme verse of Romans 12:18 and enjoy "our" olive tree by artist Cynthia Whitecotton and the symbol of peace, wisdom, glory, fertility, power, and pureness that the olive represents.
For projection: Image
Also available: Downloadable Resources
October 11 - Canadian Thanksgiving (World Renew - Canada)
For many Canadians, celebrating Thanksgiving means sharing a special meal with family. And as God's faithful, when we sit to eat, we reflect on and celebrate God's bountiful hope and unfailing love. Through World Renew's Free A Family® program, families once burdened by hunger now know the freedom that comes with food security–and they too can rejoice in a God who is loving and merciful. A bulletin insert (or cover) is available for your church's Thanksgiving celebration. This Thanksgiving, discover how you can extend the Thanksgiving table from "Family to Family", so more families are able to know and celebrate God's bountiful hope and unfailing love.
Also available: Downloadable Resources
October 17 - Disability Concerns
The goal of Disability Concerns is to  bring about the full participation of all people with disabilities in the life of the church, and the full participation of the church in the lives of people with disabilities. In today's society, people under 30 expect public spaces and institutions to be accessible in every way, yet many churches are not. Have you asked yourself, "Who's missing in my church?" Join the conversation at https://bit.ly/whosmissinginmychurch
For projection: Image
Also available: Downloadable Resources
October 24 - Faith Formation Ministries
Faith Formation Ministries encourages and equips local Christian Reformed ministry leaders in their calling to encourage lifelong faith formation in their context so that all generations have an intentional and resilient faith. For our designated offering Sunday, we're making available a bookmark-sized bulletin insert that shares great questions to ask at home, in youth groups, and at other gatherings to encourage people to explore faith practices (spiritual disciplines). We also have a short introductory video that provides a clear and concise overview of our ministry. You can share the video with your congregation during (or a week prior to) the offering.
For projection: Video
October 31 - Calvin Theological Seminary
Since 1876, Calvin Theological Seminary has worked on your behalf to faithfully prepare leaders who can nurture disciples and serve the church. You can help keep tuition affordable for Calvin Seminary students by supporting the Covenant Scholarship Fund. By giving towards this scholarship, you make a Seminary education accessible to people from all walks of life.
For projection: Video: Personal Testimony
Information about how to order materials was sent to your church in March 2021. Look for an email marked "For Action: 2021 Request Form for <Your Church Name>" or contact [email protected] for more information
November 7 - World Hunger Sunday (World Renew)
With COVID-19, we have witnessed the number of people around the world suffering from acute food insecurity grow by over 82%. In Latin America, the number of families experiencing hunger has quadrupled. World Renew invites your church to join us for this year's World Hunger Campaign: Hunger for Good. Through your church's gifts, families around the world will know God's compassion and find freedom from hunger. Our leader guide and bulletin cover will provide the information you need to encourage your congregation members to give gifts in response to the pronounced food needs we are seeing around the world. In addition, you can use our devotional to follow the story of families around the world who have struggled with hunger and found hope thanks to World Renew's work.
Also available: Downloadable Resources - U.S. Downloadable Resources - Canada
November 14 - International Day of Prayer for the Persecuted Church (ReFrame Ministries)
Christians used the fish symbol as a secret code. When meeting a stranger, one Christian would draw half of the image and wait to see if the stranger would know to draw the other. If they did, they were safe to talk freely about Jesus. In many parts of our world the threats to Christians are just as real today as they were for the early church. Thankfully Christians today have ways of talking to other believers far beyond what the early church could have imagined. As the Christian Reformed Church's media ministry, ReFrame Ministries offers a safe way to have these conversations—developing trusted websites and social media pages for believers in China, Egypt, and other places where persecution takes place.
November 21 - Chaplaincy & Care Ministry
Chaplains are specialized ministers and pastors that serve in institutional settings. They minister to the whole person, addressing not only a person's spiritual needs, but also their physical and emotional needs. They are called to be a light in the darkness, to bring Christ's grace, peace, and healing to those who need it the most. Chaplaincy and Care Ministry endorses, trains, advocates and provides care for chaplains. Learn about and support this essential and exciting ministry by asking chaplains to share their stories and visit our website crcna.org/chaplaincy/resources.
For projection: Standard Image, Widescreen Image
Also available: Downloadable Resources
November 25 - American Thanksgiving (World Renew - US)
Cheerful giving comes from thankful living -- As your congregation reflects on their blessings this past year, consider extending God's kindness to others. With World Renew's new 21/22 gift catalog, bless people in poverty around the world with gifts like dignity, good health, better income, and more food. Use the Giving Tree Project with the catalog to create an Advent tree virtually or in your church. Give a goat or duck, a nutrition kit or a handwashing station are practical ways spread the gift of gratitude. Click the link below to order and find links to the all-free resources included with World Renew's all-new gift catalog and giving tree materials for Advent!
Also available: Downloadable Resources
Information about how to order materials was sent to your church in March 2021. Look for an email marked "For Action: 2021 Request Form for <Your Church Name>" or contact [email protected] for more information
December 25 - Christmas (World Renew)
Think beyond the gift box this year and unwrap the joy of Christmas with families around the globe by using World Renew's free, all-new 21/22 Gift Catalog. A goat or chicken, medicine or food, or clean water may be the powerful opportunity someone needs to take the next step out of poverty. This year's catalog has new items as well as many favorites, including great choices for congregations, schools, families, and children's programs. Celebrate the Christmas season by creating an Advent "Giving Tree" with ornaments (Order one packet of 32 ornaments per church or group, please.) from the correlating Giving Tree Project. Select gifts from the catalog and hold a special offering. Videos, bulletin announcements, and many great, downloadable and free-to-order resources are available below!
For projection: Powerpoint Slide - U.S.  Powerpoint Slide - Canada
Also available: Downloadables - US; Downloadables - Canada
January 9, 2022 - ThereforeGo Ministries (formerly Youth Unlimited)
ThereforeGo Ministries is a non-profit, non-denominational Christian organization that focuses on assisting local congregations in their ministry to youth and emerging adults. We strongly believe that the local church is the tool God created to use to reveal himself to the world. We know that taking the call of ministering to today's youth is not for the faint of heart. Therefore, we are blessed by encouraging, supporting, equipping, and partnering with congregations across North America to reach this generation for Jesus Christ! www.ThereforeGo.com
Also Available: Downloadable Resources
January 16, 2022 (Sanctity of Human Life Sunday) - Office of Social Justice
The third Sunday in January is Sanctity of Human Life Sunday, and the Office of Social Justice (OSJ) is pleased to offer resources for your church to honor the day. Synod has encouraged Christian Reformed churches to commemorate the day's significance (Synod 1981 and Synod 1995). OSJ would like to help churches commemorate the sanctity of human life in ways that are sensitive and mindful of the impact abortion has on society, our churches, and members of our congregations.
For Projection: Image
Also Available: Downloadable Resources
January 30, 2022 (Cadet Sunday) - Calvinist Cadet Corps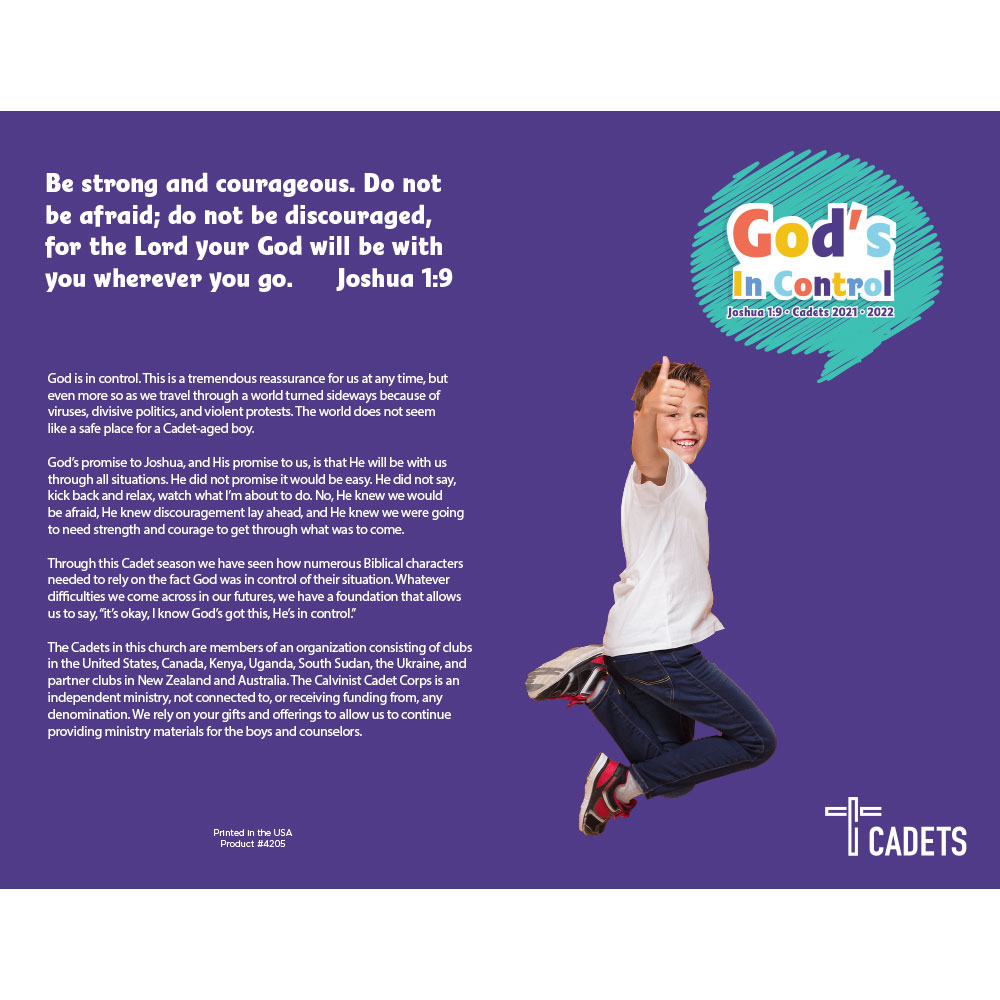 The goal of the Calvinist Cadet Corps is to provide Christian men with a structure, program, and materials that are uniquely designed to help boys grow spiritually in all areas of life – devotional, mental, physical, and social. These bulletin covers, bulletin inserts and other resources feature our "God's In Control" theme for 2021-2022 and are ideal for use on Cadet Sunday.
For projection: Image
Also available: Downloadables and Print Materials from Cadets
February 6, 2022 - Race Relations
On this special Sunday, your dedicated prayers and offerings enable and empower the Office of Race Relations. We resource congregations and members of the Christian Reformed Church as we dismantle the causes and effects of racism within the body of believers and throughout the world.
February 13, 2022 - Office of Social Justice
Thank you for enacting justice with us as members of the body of Christ! Take a look at our "joint" justice efforts and consider how we can continue to partner together. February 13, 2022 is the Sunday recommended for offerings for the CRC Office of Social Justice, and your church can use this bulletin insert for that day.
For projection: Image
Also available: Preach or Plan Worship
February 20, 2022 - Pastor Church Resources
Pastor Church Resources (PCR) serves pastors, churches, and classes as they seek to promote healthy relationships, encourage one another in ministry, and discern next steps in seasons of growth, transition, or challenge. Each year, PCR engages with almost every CRC congregation and many pastors. We're here to help in any way we can. We have a bulletin insert, a powerpoint slide (to be used during the offering) and a handout that details what our ministry offers churches, pastors, and ministry leaders.
For projection: Image
Also available: Information about PCR
March 6, 2022 (Justice and Hope Sunday) - Centre for Public Dialogue - Canada
The Centre for Public Dialogue invites you to mark Justice and Hope Sunday on the first Sunday of Lent. Featuring text from Jeremiah 27, this insert encourages us to think about the flourishing of all people. Additional worship resources are also available.
For projection: Image
Also available: Downloadable Resources
March 13, 2022 (Canadian Foodgrains Bank Sunday) - World Renew - Canada
Over 800 million people globally go hungry on a daily basis. In times of conflict and disaster, hunger becomes even more overwhelming. As a member of the Canadian Foodgrains Bank, World Renew responds to the food needs of families around the world who have been impacted by conflict, disaster, and food insecurity. Together, World Renew and the Foodgrains Bank assist communities with today's recovery, while laying the groundwork for tomorrow's security through vital agriculture and nutrition programs. Your gifts can be matched up to 4X by the Foodgrains Bank! A bulletin insert and a devotional magazine are available for order. Downloadable resources -- social media, video, and other worship resources -- will be available online. To learn more visit worldrenew.ca/cfgb
For projection: Image
Also available: Downloadable Resources
March 13, 2022 (Disaster Response Services Sunday) - World Renew - U.S.
Over the last 50 years, World Renew Disaster Response Services has responded to disasters in 8 Canadian provinces, nearly every state, and 4 U.S. territories. Through God's grace, DRS has worked together to help over 175,000 hurricane, flood, tornado and wildfire survivors repair their homes and find hope again. Together, we've not only brought the good news of the gospel through our words, but through nails, dry wall, and roof shingles too. A gift from your church helps DRS spread the love of God to people still awaiting home repair. Help World Renew DRS continue spreading hope for the next 50 years. Visit worldrenew.net/DRS-Sunday
For projection: Image
Also available: Downloadable Resources
April 3, 2022 (Refugee Sunday) - World Renew - Canada
Sponsors and refugees alike were devastated when travel restrictions put in place to slow the spread of COVID-19 derailed the plans of refugee families preparing to make Canada their home. Through your support of World Renew's Refugee Sponsorship and Resettlement Program, you can help to raise awareness of the struggles of refugees. Whether you want to help advocate for refugee rights, learn more about sponsorship, or with your gift help refugees to rebuild their lives in Canada, join us this Refugee Sunday. Visit worldrenew.ca/RefugeeSunday
Also available: Downloadable Resources
April 3, 2022 (World Renew Sunday) - World Renew - U.S.
Over 1,100 churches in Canada and the United States partner with World Renew each year through prayer, volunteering, advocacy, and financial support. Their efforts empower us to minister to over 1.4 million people in 35 different countries through development, disaster, and justice programming to change the story of poverty. Your church can join in this transformative work by visiting PathwaysOutOfPoverty.com
Also available: Downloadable Resources
April 17, 2022 (Easter Sunday) - Resonate Global Mission
He is Risen! He is Risen Indeed! This centuries-old greeting proclaims the foundation of our faith, that we serve a risen savior. This message of Christ's resurrection was proclaimed by the apostles and the church worldwide today. Proclaiming this good news is at the heart of our faith and Resonate's mission work around the world. These resources remind us of the declaration that we are all called to make on Easter and every other day of our lives.
Also available: Downloadable Resources
April 24, 2022 (GEMS Sunday) - GEMS Girls' Clubs
GEMS is a ministry devoted to bringing the Good News of Jesus to girls around the world. The mission of GEMS Girls' Clubs is to help bring girls into a living, dynamic relationship with Jesus Christ. Our vision is to see girls around the world actively and enthusiastically expressing love for God and others—girls equipped, motivated, and passionately engaged in living out their faith. Our goal for every club meeting is to create a welcoming, safe, and fun environment for girls to hear the truth that they are LOVED by God. Together, we learn how to love and care for one another, other people, ourselves, and our relationship with God. And we do this by learning about Jesus Christ, what He has done for us, and His plans for each of our lives.
Order materials from the GEMS store.
May 1, 2022 - Prayers for Synod
Synod 2022 promises to be a weighty one, with matters deferred from the two previous years, and a number of controversial topics. Please join us on our knees to pray for the delegates and leaders who will participate, for people impacted by decisions made, and for our denominational as a whole. This insert invites people to join in 40 days of prayer for Synod 2022.
Learn more about: Synod
May 1, 2022 - Diaconal Ministries Canada - NewGround - Canada
God is always at work, calling churches to follow Him into their communities, to share Christ's transformational love with each and every person. Cities and neighbourhoods should be impacted and blessed through the social action and thoughtful, cultural engagement of local Christians. NewGround partners with deacons and churches to break new missional ground, nurturing Spirit-led ideas that bear everlasting fruit. It's time to roll up our sleeves and join God! NewGround is a program that helps churches start or grow ministries at the ground level, with discovering where God is at work in their community (Community Opportunity Scans & Deacon Scholarships [learning, listening]) and then providing coaching and resources to help them get a new community ministry started (Community Ministry Grants/Support & the Youth Justice Project). As we also aim to develop both current and future leaders (Deacon Scholarships & Youth Justice Project), the ground represents the cultivation needed to see each person flourish in God's Kingdom.
For projection: Images
Learn more about: NewGround Campaign
May 8, 2022 (Mother's Day) - Moms of Hope Sunday - World Renew
In many communities around the world, women are denied earning opportunities–opportunities that could help their families and communities to overcome poverty. Genesis 1:26–27 teaches us men and women are created equally in the image of God and together have dominion over the earth. Through the Free a Family® program, World Renew welcomes women to participate in training in income-generating activities. This Mother's Day, join World Renew to learn how you can help foster Moms of Hope–women who are striving to transform their families and communities. Visit worldrenew.ca/MomsofHope (Canada) or worldrenew.net/MomsofHope (US).
Also available: Downloadable Resources (Canada)Downloadable Resources (U.S.)
May 22, 2022 (US) and May 29, 2022 (Canada) - ReFrame Ministries
The good news of the gospel is for all people! Around the world, the CRC is working through ReFrame Ministries to share the gospel with people like Miriam and Maureen, two women from different parts of the world who have similar stories of broken marriages and God's healing restoration.
Also available: Downloadable Resources
June 5, 2022 (Pentecost) - Resonate Global Mission
At Pentecost, promises old and new are fulfilled. The ascended Jesus becomes the baptizer, drenching his followers with his Spirit. The Spirit gathers people from every tongue, tribe, and nation into the unity of the body of Christ. Anointed and sent by the Spirit, the church is sent into the world, ambassadors of God's peace. The Spirit is at work today in our neighborhoods and around the world. Resonate follows the Spirit's leading as we respond to the calling of God's mission. These Pentecost resources are available to help your congregation remember the annointing of the Spirit on all of us as we join in the work of mission.
Also available: Downloadable Resources
June 12, 2022 (Trinity Sunday) - Worship Ministries
Worship Ministries desires that every worshiping community in the CRCNA experience Spirit-filled gospel proclamation and worship that is directed to God, is biblically based and theologically Reformed, and is characterized by creativity, discernment, spiritual vitality, the faith formation of all worshipers, and a call to serve others. We do that by creating networking opportunities for worship planners, leaders, and pastors; offering coaching for worship leaders and teams; providing free webinars and resources; the formation of online communities; and the publication of the Reformed Worship journal. tinyurl.com/CRC-Trinity-Sunday
For projection: Image
Also available: Downloadable Resources
June 19, 2022 - Indigenous Ministries - Canada
Indigenous Ministry Sunday falls on the Sunday closest to National Indigenous Peoples Day in Canada. This year's resources highlight worship music created by Indigenous peoples. Additional worship resources that celebrate the gifts and richness that Indigenous people bring to life in Canada are also available.
For projection: Image
Also available: Downloadable Resources
June 26, 2022 - Candidacy Committee
Candidacy Sunday offers churches a great opportunity to thank God for the men and women who anticipate being approved as candidates each year at synod. Digital resources are available on the Network for a bulletin announcement, pulpit announcement, power point slide, and worship litany.
For projection: Image
Also available: Downloadable Resources
Prior Year
Resources for past months are listed below for reference.
July 11 - Raise Up Global Ministries
Raise Up programs equip the global church by developing study materials and training facilitators to lead change. Join God and his work! "...God's people will be equipped to do better work for him, building up the Church, the body of Christ, to a position of strength and maturity." Ephesians 4:12 Living Bible
For projection: Image
Also available: Promo Video, Bulletin Insert
August 15 - CRC Annual Day of Justice
We know that scripture promises us a future of renewal and restoration — a righting of all broken relationships between people and God. We also recognize that Jesus calls us to stand up, be kingdom workers, and begin that renewal now in our own context and beyond our churches' walls.
Also available: Worship Resources
August 22 - Diversity Sunday
The Office of Diversity serves our growing number of non-Anglo congregations - The Office is sparking a new conversation where diaspora communities are leading the CRC in noticing and engaging with the changing community in which they worship. This results in growth of leadership within the entire denomination, and helps us to share our gifts and leadership in a way that grows the CRCNA as a whole.
For projection: Image
September 12 or 19 - Resonate Global Mission (Mission Emphasis Week)
Mission Emphasis events provide a special opportunity to praise and thank God for the ways he is using the Christian Reformed Church to announce and live out the gospel. This year's theme—Whole Church, Whole Gospel, Whole World—focuses on Acts 1:8 and how each one of us has a role in God's plan for redemption. This bulletin will be an excellent resource for your Mission Emphasis service on September 12 or 19, 2021.
For projection: Image
September 26 - Abuse Awareness Sunday (Safe Church Ministry)
Most of us, when we think of abuse prevention and awareness, think of windows in doors and abuse prevention policies. While these are certainly helpful, Safe Church would like to invite churches to imagine a more holistic approach to nurturing a safe and healthy church community where abuse itself becomes unthinkable and where survivors feel supported and safe. The insert provides some great ideas for reflection and consideration to move beyond policies to a way of being church.
For projection: Image
Also available: Worship Resources